Popular Ghanaian dancehall artist, Charles Nii Armah Mensah known on the music industry as Shatta Wale has once again disgraced himself as he posed with his alleged cousin for a photo. In the picture shared by OMG voice, it is seen that Shatta Wale's "gun" was [email protected] and stiff trying to bulge out of his trousers. In the picture, both were seen looking at the bulge on Shatta Wale's trousers.
READ ALSO : Watch Video: See What These SHS Girls Were Caught Doing On Campus( Full Video Here)
He is however not bothered about the situation though. See the picture below.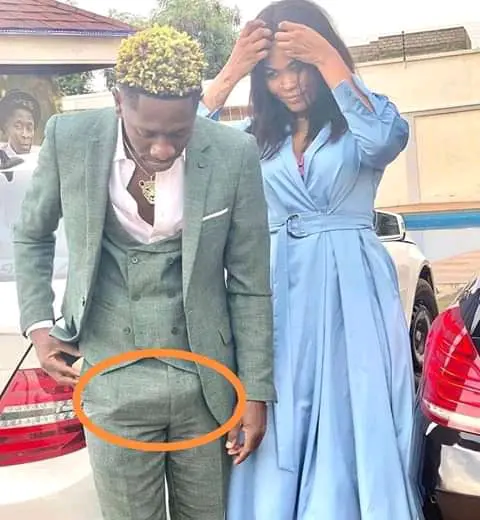 This is not the first time this is happening but it happens regularly to him. First it was with self acclaimed dancehall queen Wendy Shay and then it happened recently when he was on stage with Serwaa. Then it happened again with his alleged relative. It is obvious that Shatta Wale is always thinking about an [email protected] whenever he is with a [email protected]. It is normal for a man's manhood to rise when he is with a female colleague but sometimes we need to control ourselves
Thank you very much for reading this article. Please follow my page for more authentic and reliable contents.